Toddler Program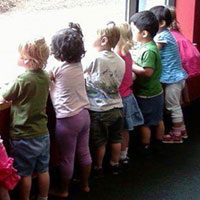 Age: 16 months - 3 years
Our programs are based on the needs of the children.
Everything we do is the result of a conscious decision based on what is best for the child.
Our Program

Purpose

Has a low child/teacher ratio

Has a small group size (6 children with 1 teacher, 1-6 ratio, group size of 6)

Individual attention and a calm environment are critical to a low level of stress for toddlers
A small group size and a low teacher/child ratio are necessary to accomplish this goal

Has mixed age groupings

Children can learn from each other
Children who remain with one teacher longer form close attachments
Children play different roles within a group (baby, helper), different than their role within their family (youngest, oldest)

Focuses on encouraging children to explore their environment (open, shut, build, touch, move, climb, etc.)


Exploration of their environment is what toddlers naturally want to do
Exploration promotes cognitive and physical growth

Teaches about ownership ("mine") and turn-taking ("I want it when you are done")

Ownership and turn taking are learned skills
These skills provide the foundation for cooperative play

Offers choices to children as a learning and discipline strategy

Helps children learn to be problem-solvers and decision-makers
Avoids power struggles

Teaches toddlers to identify and label feelings

This is one of the emotional intelligence skills
Testimonials
Paidea
Child Development / Childcare for
Toddlers, Preschoolers, Schoolagers, & Kindergarten
Nurturing little ones since 1984!
Contact us!